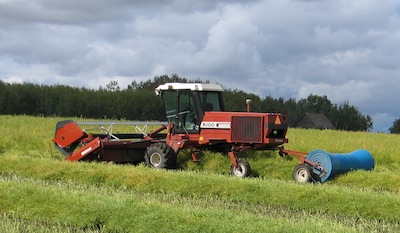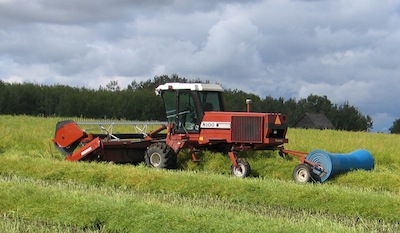 There has been a lot of noise this week about canola seed prices for the 2017 crop. Figures as high as $700 per bag (about $14/lb) for a sclerotinia resistant variety have been thrown around. As a moderate fan of Twitter,  I had to laugh at one particular tweet from @DavidKucher: "I'd have to #SellTheSwather in order to afford next year's Invigor seed price increase". This, of course, refers to the now popular production practice of straight-combining canola versus the traditional practice of swathing then harvesting.
This opens up the perennial challenge for farmers: costs are increasing with no guarantee that production prices will increase as well, margins become questionable, and emotional decisions get made. Is it better to keep the swather and plant cheaper canola seed? Or follow through with straight-combining canola, sell the swather, and grow the expensive variety that works better with straight-combining?
Aside from the cost/benefit sermon that would fit very well here, I believe that the real issue is differentiating between emotional decisions and informed decisions.
While I could go into a diatribe that includes harping on the how and why, instead, I'll offer a list of questions that may help you determine whether or not to "sell the swather."
Will the more expensive seed provide enough extra yield to offset the added cost?
Have you included the savings to your operating costs from eliminating the expense of swathing the crop?
Does that saving to your operating expense include staff costs for you, or hired help, to run the swather?
Have you considered the cost of owning the swather, and how eliminating it affects your fixed/overhead costs?
How have you substantiated (actually measured) the seed loss from straight-combining and compared it to the loss from swathing?
How cheap can you get new canola seed without sacrificing yield?
What other benefits are you prepared to relinquish by opting for cheaper seed?
Which canola variety matches your crop rotation, pest pressure, and operational timing & strategy?
Which canola variety is most profitable?
If you literally need to sell the swather to afford canola seed, can you see that there are bigger issues at play?
Selling assets to generate sufficient cash to cover operating costs is the beginning of the end. Selling assets that are minimally used to free up cash & leverage that could be redeployed elsewhere is a good strategy.
The answers the questions above are yours, not mine. There is no solution that I am prescribing by posing those questions. The solution will come from your answers. What I am prescribing is taking the time required to make informed decisions.
From the Home Quarter
Emotional decisions, made in haste, like shooting from the hip, will offer benefit…to someone…but not you.
Informed decisions keep you in control, on plan and on task, by ensuring there is benefit to you, your business, and your family.
For personalized guidance on determining if selling the swather is the right decision, call or email and ask about our Farm Profit Improvement Program™.