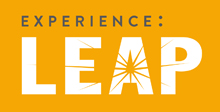 Leap year only comes around every 4 years, so to some people, it's kind of a big deal; to others, not so much. I will have spent the 2016 leap day by taking part in a unique event, Experience: LEAP.
Experience: LEAP is an initiative of the wonderful people behind Project: SHINE Inc. Their passion is for everyone to live the fullest life possible, to be their true self, and to experience life with passion and purpose. The key message is for everyone to learn that where you are is not where you have to stay. The message applies to us personally, but also has business implications.
In the case of this event, LEAP is an acronym as follows:
Leadership
Leaders are made, they are not born. While some people are born with the characteristics that are often found in great leaders, the fact is leadership skills are learned, and therefore, leaders are made. This has 2 different aspects that apply to your farm:
You are the current leader of your operation.
You need to identify and develop a leader to take your place for when you're no longer leading the business.
We often learn from experience, or learn from others' examples, but rarely do farm business owners ever get sat down and taught how to be an effective leader. Everyone in your business will perform in direct correlation to their response to the leadership of the organization. It is like the old saying, "Would you rather be in an army of lions led into battle by a sheep, or be in an army of sheep led into battle by a lion?" If you find yourself questioning the effectiveness of your employee(s), first gauge your effectiveness as a leader.
As a leader, you need clarity in the results you expect in your business, the strategy for achieving those results, and the tactics in execution of the plan. Naturally, sharing this information with your team is critically important in effective leadership.
Engagement
One cannot expect to build a profitable business or an effective team without being engaged. A person who is disconnected and unattached will achieve sub-par results, and find the same in their team. How does one become more engaged? What can be done to increase the engagement of a team? By and large, it begins with purpose. Clarifying the "why," which means "why are we here; why do we do what we do; why are we the best people for the job?" Clarifying purpose by answering the "why" helps teams, and individuals, recognize that they are a part of something bigger and that they have a key role to play in the organization. By turning a basic employee, a laborer per se, into an engaged and contributing member of a highly functioning team will pay dividends to your business that may astound you.
Authenticity
To be authentic is to be real or genuine. This involves interactions with your staff, your business partners, your family, your vendors, but most importantly with yourself.
I find it curious that authenticity is required for true engagement, which is required for effective leadership. Passion affects everything.
Passion
Passion can be difficult to describe because it is a feeling like few others. Passion can consume you, drive you to heights never imagined, and lead to immeasurable levels of joy or even anxiety. Passion can often create infallible commitment, which, if not balanced with sound rationale in decision making has potential to lead to undesirable outcomes. Unbridled passion sounds poetic and profound, but it can be dangerous if not balanced with reason and objectivity.
Yet, life (or business) with no passion becomes an insufferable task to endure. Most farmers I meet are passionate about their farm, about the land, about growing things, about the family legacy they are living and plan to leave behind. "Life becomes work" if there is no passion. But don't forget balance, because "work can become life" on the opposite end of that spectrum; neither is desirable.
Direct Questions
How are you gauging the effectiveness of your leadership? (HINT: this isn't a "self-assessment.")
What are you doing to match your engagement to that of which you expect from your team?
How would you describe your passion?
From the Home Quarter
Recently, I listened to a presentation where the crowd was polled: If you could sell all your land for 25% above market value today, and rent it back for life at half of current rental rates, how many would take that deal? No one raised their hand. The presenter then acknowledged that no one in the crowd was a farmer, but actually a land owner. Everyone laughed in subtle agreement.
The point is to define your passion, your "Why." Clarity in what you do, why you do it, and how you do it is no longer something that only applies to large corporations who need that "feel-good mumbo-jumbo" as part of their strategy. Make no mistake, farms of the future will require processes that were once foreign, or only found in corporate cultures. The need for social license becomes greater each day. The need for strong and committed teams becomes greater each year. The need for passionate, authentic, engaged leadership becomes greater with each new generation in the family business.