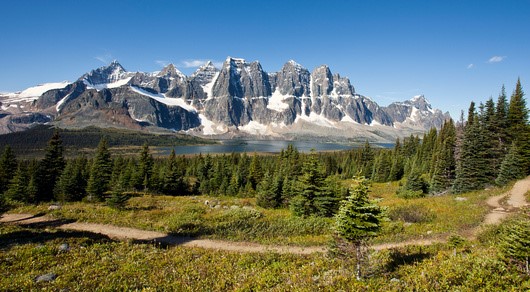 Two summers ago, 5 friends gathered to undertake a 2-day back country mountain hike. All the plans were finalized well ahead of time. Everyone invested in proper gear for such an adventure: backpack, drinking water storage, hiking boots, etc. The weather was perfect. The gear lived up to its expectations. No one got hurt. The entire excursion truly was a success.
The best intentions ahead of such a trip were evident, yet preparations had to be made for unpredictable scenarios such as encountering a bear, inclement weather, or getting lost. There is no cell service in the back country…
In this case, everyone was prepared for challenges along the way.
Contrast the story above with a trip into the city, or even a longer trip to location out of province. If it's a day trip or a short run, as long as there is enough fuel in the vehicle, all you might grab is a jacket on your way out the door. Longer journeys might lead you to give the vehicle a servicing beforehand, fuel it up, and load it with some luggage and possibly snacks for the drive. You know what route you'll take and you know how long it takes to get there. Off you go…
Along the way,
you find your primary gravel road is getting a culvert replaced (forcing a 5 mile detour);
you drive through an unmarked rough patch on the highway that causes your coffee to spill on your lap;
you come up to a minor collision where the emergency vehicles (tow trucks, police) have slowed traffic which is now backed up one-eighth of a mile;
The total drive time of 1 hour (or 2 hours, or 7 hours) other than the 3 points above were "ideal driving conditions" with smooth roads, light traffic, and a tail wind.
You arrive at your destination 20 minutes later than planned but safe and sound.
We might describe this story as a terrible excursion where nothing went right. Yet, we did arrive safely, without injury (or worse.)
In the first story, about the mountain hike, the friends were later discussing doing another such trek in the future. It is good for the soul, after all. In that discussion, comments were made about not needing to "over-pack" next time (because the first trip had no significant challenges likes bears or snow.)
In the second story, unforeseen obstacles hindered progress and challenged our perspective of what a successful trip really is.
To Plan for Prosperity
The journeys above are a metaphor for your business.
When tackling something new, it is common to over-prepare. Then if the venture is successful, it is easy to shuck all the preparedness that wasn't needed the first time around which could put you and your business at significant risk. What in your business is equivalent to running into a bear on a back country mountain path?
Conversely, when setting out on a familiar trek, any glitch (no matter how small) can cause us to get upset, even angry, and wonder "why is this happening to me?" We fail to recognize that we didn't plan for any contingencies, and left ourselves at risk. What in your business is equivalent to a 5 mile detour, or hot coffee spilling in your lap?
How do you respond when revenue falls short of expectations, or when a key employee resigns? In business, and in life, we have to be willing and able to change paths, sometimes by choice while other times we are forced.
Our ability to adjust is critical to our success.