This is following through on something I sort of dared myself to do in a tweet recently: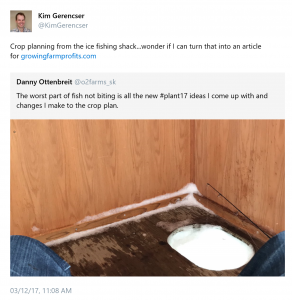 I smiled at Danny's tweet about about the lack of bites while ice-fishing and how it was contributing to crop plan changes for this spring's upcoming seeding season (or "planting season" as it is also called.)
Thinking time is something that we seem to have less and less of these days. With the constant bombardment from numerous social media platforms, phone calls, text messages, and emails, it is amazing we are able to get anything done. Quiet time, disconnected from our "devices" is not only critical to staying sane (disclaimer: I am not a psychologist and that is not a psychological prescription) it is also required for some thinking time.
Consider the many aspects of your business, and the thousands of decisions you make every day. This doesn't even touch on the "major" business decisions that need to get made through the course of the year. Many of those daily decisions are reactionary because the situation is something you've been through many times before, or you may have prepare for the decision with some planning. Other situations require that you stop what you're doing to make the decision, whether that be from the situation being something you've never dealt with before, or possibly because you just hadn't considered it and you're therefore not prepared.
For me, thinking time happens all too frequently; it's just how my mind is (always grinding away on something.) The challenge for me is that if I'm not prepared to record or act upon (what i think is) a brilliant thought or idea, it can get lost. It's been suggested that I keep a note pad or recording device with me all the time. A great theory that is tough to enact when I"m driving, or when I'm laying awake in bed trying so hard to fall asleep; both are situations when my quiet time, my thinking time, seems strongest.
My new strategy is to dedicate a portion of each day to thinking time. It's not scheduled, nor is it rigid in practice. I allow myself the time, possibly a few times each day, to do the creative thinking I need to do in my business when the juices begin to flow. This allows me to take notes of my brainstorming, to elevate my confidence in that I have captured what are (in my mind) brilliant thoughts and ideas, and reduces angst over the "I had a great idea on _____________, and I lost it!" <insert curse words here>
When I was farming, some of the best opportunity for thinking time was in the tractor; I'm sure it's the same for many of you. The problem is that thinking time in the tractor while seeding is too late to be crop planning. Although, it is a terrific time to give thought to your financial reporting from the previous year and tactics to improve for the current year.
To Plan for Prosperity
There is an almost immeasurable amount of information coming at us from the virtual world and from the plethora of farm shows scheduled across the prairies all winter. To sort out all of the information available to you, and not be overwhelmed in the process:
Set aside some designated thinking time on a regular basis (unplugged, no devices, no distractions;)
Enlist the guidance of advisors who experts in their field;
Give yourself the leeway to make mistakes. Perfection is unattainable.
Thinking time should not be limited to current issues or the next three months. Also include the next three years. Your business is an ocean freighter, not a speed boat; changing course and making adjustments cannot happen quickly, they take time and deliberate action.