I very briefly got into a Twitter discussion on Sunday with a few farmers when the question was posed
about sustainability, specifically if the ag industry in western Canada is actually advocating for
sustainability or just preserving the status quo. I waded in because "what is sustainability?"
My tweet was a question: How do you define sustainability? Is it agronomic, environmental, financial,
family? There are many factors to consider on the farm.
Sustainability means different things to different people. Kind of like the term "organic." Neither are
clearly defined anywhere in a way that is unanimously accepted. Both then are open to individual
interpretation. I'm not treading into the organic/conventional battle here; I'm talking about
sustainability.
The responses to my tweeted question were all about soil and how if soil health is the primary focus,
everything else *should* fall in line. I respectfully disagreed. Good soil stewardship + poor financial
management ≠ sustainability. I was not trying to discount soil health, just hoping to expand their line of
thinking. I left the conversation at that point. The parties continued to banter about tillage, irrigation,
crop rotations, etc. I just wish we could see that there is more to farming than production.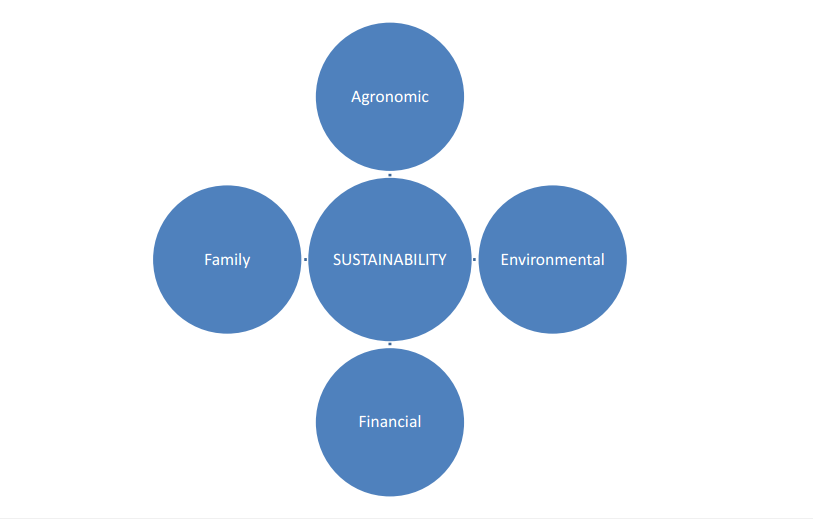 Agronomic Sustainability
If you don't know what Cation Exchange Capacity is, what your C:N ratio means, or how to calculate
SBU, then hire an agronomist (of which I am not one.) Agronomic sustainability is as much an art as it is
a science, and if you're not well versed in the art, or the science, of agronomy then being sustainable
might be a stretch.
Environmental Sustainability
This is a slippery slope with a whole lot of noise out there. Who should you listen to? I'm not touching it
with a 12' pole. But all farmers know that the environment is critical to our success. 'Nuff said.
Financial Sustainability
I could write a book on this. From cash management to proper use of leverage; from strategy to
operational efficiency; from knowing your numbers to management process, the pages would flow!
Same can be said here as for agronomy: if you're not well versed, hire an expert!
Family Sustainability
This hits me directly right now. Since I made the decision to retire from active farming to focus 100% on
my consultancy business, the family dynamic has changed drastically. Looking back I can identify things I
should have done differently, but those choices were not apparent at the time. One choice that was
apparent was to set expectations very clearly on Day 1. It is safe to surmise that didn't happen. Whoever
said "It's never a problem until it's a problem" is very correct in their vagueness. We all took for granted
that the family will work together and get along, a gross miscalculation as it turns out.
Direct Questions
When you hear the word "sustainability," do you cringe expecting an environmental sermon?
How many distinct ways can you identify opportunities to improve or incorporate sustainability in your
business?
Are you putting in adequate effort to prepare for the unexpected so as to remain sustainable in all
aspects of your business?
From the Home Quarter
I fear for those who don't recognize that their farm is about more than just production. I'm not
suggesting that production take a back seat because is it critical to success, but we must expand our
perspectives beyond the crop and the field to the markets, to the balance sheet, to macro-economic
forces, to family dynamics and HR issues, etc. This list could be endless, and everything on it must be
"sustainable."
None of this is new news; we all know that we must be sustainable in all facets of our business to
survive. But I ask if we are all able to recognize the opportunities and threats to our sustainability in a
way, or in time, to do something proactive about it.
If you'd like help planning your farm for business and personal success, then call me or send an email.