It is always interesting to listen to the variety of different opinions on how each farm views "success."
For many it is measured by a tangible: number of acres under cultivation, number of combines in the fleet, etc.
For others, it is an intangible: family harmony.
Most of the time though, year by year success is measured in bushels.
Here is my response to a tweet just the other day: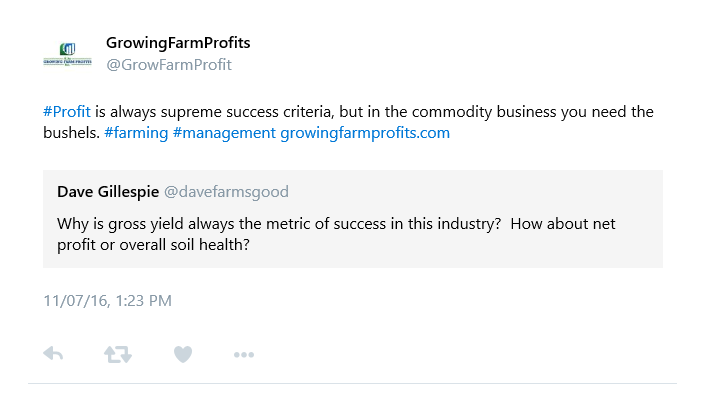 Profit is always the supreme success criteria. Generally, I stop there because so much of the focus at the farmgate is primarily, almost exclusively on production, and it drives me crazy! But we simply cannot ignore the basic tenet of primary production: you need the bushels!
In the commodity business, and I don't care if it is grains, livestock, oil, or minerals, the only businesses that produce commodities with consistent profitability are those that produce at the lowest cost per unit…period.
What's the best way to lower your cost per unit? Produce more units, and in this case that means more bushels! Of course, the caveat is that you must produce more bushels without incurring more cost, or at least if costs must increase that their increase is not linear to (ie. less than) yield increase.
I am continually challenging my clients to find ways to reduce their overall costs. In an industry that has dedicated immeasurable amounts of focus on production, it is not unreasonable to admit that many farms are already producing maximum yields for their region, soil type, weather patterns, etc. Without further advancements in plant genetics, increases in yield beyond the average will mostly be achieved by the good fortune of ideal weather during the growing season.
Control what you can control (your costs) and accept what you can't control (the weather.)
Direct Questions
How do you calculate your Unit Cost of Production (UnitCOP)? Do you calculate it at all?
How do you determine when the chase for more yield is no longer profitable?
What strategies do you employ to reduce your cost per unit?
From the Home Quarter
As read in the tweet above, "How about net profit?" Profit is the reason we're in business, is it not? A business without profit is not a business, it is a charity!
Business is always evolving, growing, changing…maybe our definition of success should change too.