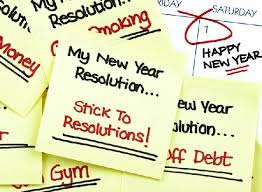 It's that time again, already. Another new year is about to begin and with it, the customary practice of declaring resolutions for the new year, promises we make to improve ourselves for our own betterment. I'll preempt just about every newscast you'll see between January 1st and 4th by stating it now: New Year's Resolutions seldom last. There. You can still tune in to the TV or radio for more on that headline: the same old rhetoric from the same old stories that get recycled every year.
When it comes to our businesses, we shouldn't be so laissez-faire with our intentions to improve our station. (Yes, we should be more dedicated to our personal "resolutions" too.) Two weeks ago, you read about some of the goals that my clients are working on in 2016. I can assure you (and them) that their goals will see through, because I will see to it. As their trusted advisor, I will be there all along the way to help them stay on track and focused. Similar to how a personal trainer will hold their clients to account on their "fitness resolutions" in the gym.
Interesting how gym memberships sky-rocket in January.
"Resolution" is the act of resolving; the act of finding an answer or solution to a conflict, problem, etc. (http://www.merriam-webster.com/dictionary/resolution)
For a resolution to be realistic, the "problem" needs first to be identified. Is the "problem" real or perceived? Is the solution to the "problem" achievable? Is the "problem" even a "problem?"
At the beginning of 2015, my New Year's resolution was to be more physically active. I had committed to a 28km back-country mountain hike to take place in July, and I knew that my stagnant carcass, being that I am always sitting (either at my desk, in my truck, or with my clients,) would struggle with the inclines but mostly with the endurance. Great intentions fell flat during the winter, which is my busiest time of year in business. I even tweeted on March 30 that I was "starting on my New Year's Resolution today" since I was finally starting to take action on my goal. High hopes and grand plans were all for not as I embarked on the 3 day hike (28km in, and 25km out) with little in the form of physical preparation. The hike was more difficult that I imagined, but I got through it better than I expected. I guarantee that I won't be unprepared for this summer's edition!
My Goals for 2016 (not New Year's resolutions!)
Improved physical activity (double current levels)
Increase efficiency in my business by 50%
Multiply my 2015 family vacation time by 3 (I took 1 week this past summer.)
Direct Questions
Do you get caught up in New Year's Resolutions but let real goal planning go undone?
How are you documenting and measuring your progress on your goals?
How do you stay motivated to keep working on goals and not let them slip into nonexistence?
From the Home Quarter
Growing Farm Profits Weekly™ will begin the New Year with a series of concepts to help you find greater efficiency, make more informed decisions, and realize improved opportunities to enhance your profits and your wealth.
This edition marks fifty-two issues now in the books and I thank you for following along in this first year. The next year, and years to come, will continue to deliver more thought provoking topics, mind-set challenging discussions, and pragmatic tips and tools to assist your ongoing and ever essential need to be Growing Farm Profits™.