My clients continually educate me on the regional anomalies relating to land prices, and specifically land
rents. The common opinion among most farmers I speak with is that some of their neighbors just don't
understand how to measure costs, and this leaves many farmers (including some of those I speak with)
feeling left out in the cold as they watch land get snapped up by someone willing to pay a rental rate
that can appear astronomical.
Based on third party feedback, meaning info shared with me by a farmer from his/her conversation with
a friend/neighbor/competitor, most decisions to take on land are being justified under the guise of
"reducing equipment costs per acre" and/or "the drive to be bigger."
Popular ag-economics has drilled in to everyone's head that fixed costs, like equipment, need to be
spread out over more acres to reduce the fixed costs per acre. This is simple arithmetic, and is
mathematically correct if we stop there. Stopping there allows us to feel good about the decisions we've
made to increase our fixed costs because "over 'X' acres, we're only spending 'Y' dollars per acre."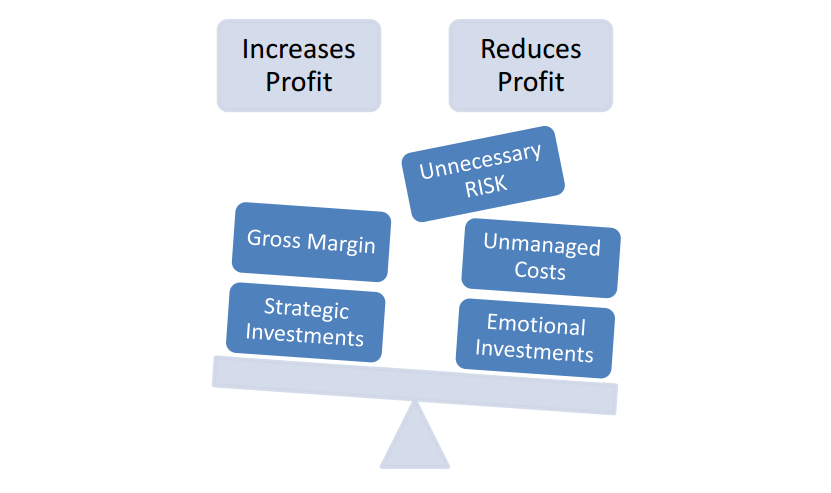 Of all the costs that farmers face, the costs they have most control over seem to be the costs that are
least controlled. MNP has coined the term LPM, and what I'll call "operations" are a farm's labor, power,
and machinery costs which have ballooned in recent years. Next in line is Land, Buildings, and Finance
costs, or what I'll call "facilities," which have also grown significantly. Increase land costs (rent) to justify
increased equipment costs: think about it, we're increasing costs to validate increased costs…
We expect to make a profit from taking risk. The more risk we take, the more profit we expect. My
concern comes from witnessing decisions that magnify risk and leave the expectation of profit as a
secondary, or even tertiary, consideration.
Direct Questions
Take a look at your expected gross margin this harvest. How much gross margin will you have available
to contribute to "operations," "facilities," administration costs, and PROFIT?
What is your "operations" cost? What are your target costs for "operations?" Did you know the most
profitable farmers keep their "operations" cost below $100/ac?
Have you traced your line from gross revenue and gross margin through to costs and down to profit?
Where can you improve?
From the Home Quarter
We cannot eliminate risk, we can only manage it. We cannot eliminate expenses, we can only manage
them. We cannot manage what we do not measure. If the purpose of your business is to increase profits
and grow your wealth, should you not ensure that the risks you take and the expenses you incur fit into a plan
for profit?
Understanding Costs – a graphical simulation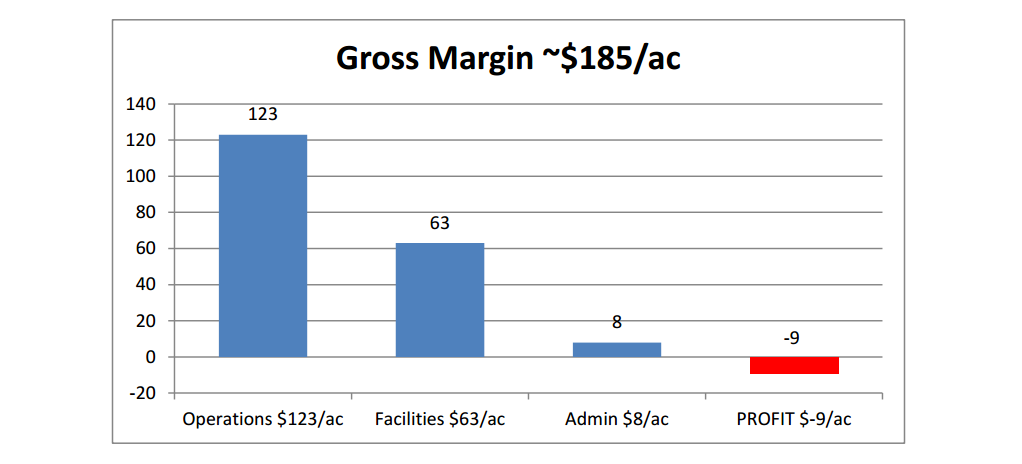 In the example above, which illustrates a generic but common scenario on average grain farms in 2015,
a net loss of $9/ac is expected. But the top 10% of farms with a similar gross margin could show a net
profit of $40/ac, simply from excellent management of their controllable expenses: operations, facilities,
and admin.