Last week, this article weighed in on the trend of increasing costs in certain areas of the farm, namely
Operations (equipment, fuel, people,) and Facilities (buildings, land, financing.) These are the two most
controllable expense areas in farm management. These are the two cost areas that have seen the
biggest increases.
Over the winter, an old colleague and friend made the following tweet through @RCGFarmWise: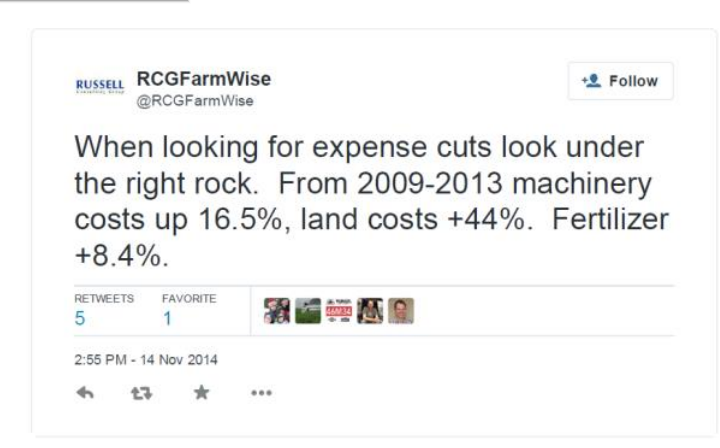 Moe Russell has spent well over 30 years in farm finance
and management, and he has been tracking this kind of
info for a long time. I trust his integrity and his
information. Essentially over 5 crop years, this says that
farmers have increased equipment costs 100% faster
and land costs 400% faster than they've increased input
costs. In a time of high commodity prices with yields that
were typically above the long term average, this was not
uncommon.
Recently I took part in a Farm Business Development Initiative (FBDI) seminar that brought together
approved consultants and learning providers (of which I am both) to discuss updates to the program.
(Lean more at https://fbdi.gov.sk.ca/) During a conversation there, I overheard one attendee saying
how he listens to farmers "bemoaning the $60/ac they spend on seed, but nary a word to the $60/ac
increase in equipment costs they just took on."
It is not surprising to see farmers looking to inputs first when trying to find ways to cut costs. We justify
it by lamenting increases to seed, fertilizer, and chemical prices. We validate cutting inputs by
acknowledging that inputs require the highest cash cost per acre of anything else on the farm. There are
sound ways to cut inputs; I was enjoying listening to many clients describing how they are using generic
herbicides this year, focusing heavily on scouting to verify the need for fungicides versus just spraying
anyway, etc. But when I heard one who wanted to eliminate a broadleaf herbicide in his cereals to cut
costs, even though I'm no agronomist, I quickly brought risk management to that conversation. Every
decision needs to have a risk/benefit or cost/benefit consideration. There is too much at stake!
More to the tweet above, looking under the right rock is not easy because it will force each of us to
acknowledge how and where we've allocated our capital. If we know we should not have increased our
"operations" cost, it's difficult to face that reality, swallow pride, and make a better (or corrective)
decision. This is magnified in year like 2015 when excess moisture ahead of seeding turned into drought
for most of the growing season, and adding to that the late spring & early fall frosts, we could find that
many will miss their production targets. Are you confident you were using the most efficient agronomic
plan possible? Will your "operations" costs be harder to manage with missed production targets? Will
you be looking under the "inputs rock" to find ways to cut costs?
It has been said many times that "you cannot shrink your way to greatness." Cutting inputs for the sake
of reducing costs is "shrinking" your ability to generate strong revenue. Even the best marketing cannot
make up for lost production. Your priorities need to continue for you to be:
1. The most proficient manager you can be to build a strategic and tactical plan that maximizes
ROI, personal wealth, and family values;
2. The most efficient producer you can be to lower your Unit Cost of Production;
3. The most equipped marketer you can be to hedge market risk, and generate sufficient gross
margin.
By misplacing your cost cutting priority onto the critical facets of your business as listed in the 3 points
above, you would be doing more harm than good, despite best intentions.
Direct Questions
Where have your costs experienced the greatest increase (inputs, operations, facilities)?
In recognizing the 3 critical facets above that require your full investment (management, production,
marketing,) where can you find costs that can you live without?
How confident are you in your awareness and abilities to enact appropriate cost management
strategies?
From the Home Quarter
You won't hear me condone a general prescription of "more fertilizer," but you will hear me advocate
for "better use of fertilizer." It's not about the producing biggest yield; it's not about producing at the
lowest cost; it's about producing the best yield at the most efficient cost. And the most efficient cost
also refers to "operations" and "facilities." The allocation of your finite resources to those costs also
needs to be highly efficient. As a banker friend of mine likes to say, "Your crop doesn't care what color
your equipment is."
…or how new it is.
…or how much rent the landlord is squeezing out of you.
The purpose of your business is to grow your profits, maximize your ROI (return on investment,) and
increase your wealth. Spending over $200/ac on "operations & facilities" costs will not get you there.