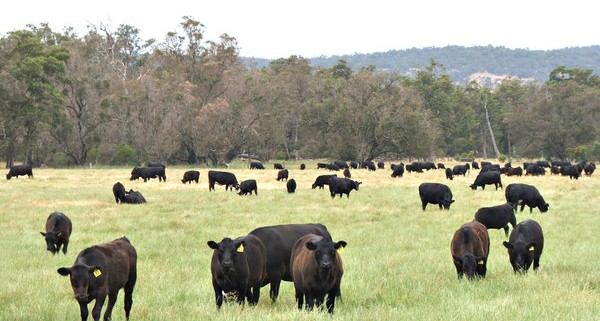 Recently I met a confident cattleman who clearly displayed zero interest in what I do for clients and how they can benefit. He was very direct in describing his costs, and knew his break-even on his animals (right to the paperclips.)  He received a compliment from me on being ahead of many of his competitors.
To test me (or so I think this is why) he asked what he should do with his heifers this fall. After admitting that I am not an astute cattle market advisor since most of my work with farms are grain farms, I asked what his thoughts were if he and I weren't having this conversation. He said he'd keep them and only cull a handful of cows. Doing so would increase his breeding herd by one-third. This, at a time when we're coming off a serious drought which has left feed stocks and pastures in tight supply and at premium prices.
He sold fed calves this fall for enough to make a tidy profit. In the same breath he bemoans the price insurance premium he paid this year. I wouldn't have thought that creating enough profit from operations so as not to need risk management programs was a bad thing…
Further to his question about what to do with his heifers, I said that I'd first need to know where the market is headed by taking a look at the futures market for beef and for the Canadian dollar. This was a lead-in to ask him if he does any hedging. His response was, "No, we're not on the right side to do that." Puzzled, I asked him to explain. He described how "lots of guys out there hedge the dollar, price all their barley, and contract their sales…basically they're doing everything to lock in a profit."
I let that statement stew for a moment; I wanted his own words to sink in.
Then I just blurted out, "That sounds fantastic! Why wouldn't everyone do that?"
There was no response.
It was at that moment that I knew there was no point berating the issue further. Here was a cattle operator who knew his costs but refused to use that knowledge to his betterment. There was nothing I could say in that moment that would lead him to take a different action.
To Plan for Prosperity
Profit is not a bad thing, it is a very good thing and business must do everything possible to maximize it. The story above is real, and more of the story includes a decision on whether this cattleman should pursue off-farm employment because the cattle alone aren't providing sufficient income.
I'm puzzled at how off-farm employment along with the cattle herd simply creates more work and is an option being considered, yet more work to maximize profitability in the cattle herd (hedging strategy) isn't work that is desirable.
Profit feeds your business, it feeds your family, and it feeds your ability to spend time with your family & on other things you enjoy.
Profit is not a bad thing, it is a very good thing.
Is profit a part of your strategy?