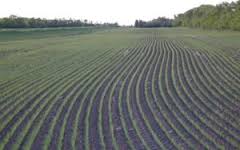 Recently, I read an article that listed the "Top 10 Ag Data Platforms of 2015." I recognized only 2 of them. Clearly, the choices available to producers in finding and using an appropriate data template is abundant. In recognizing that this does pose challenges in trying to decide which one to use, several of them offer a free trial period: use the service for a set amount of time and if you're not happy, they'll refund your fees. Can't lose, right?
Like so many other aspects of life and business, going on the cheap, finding the lowest cost solution, spending as little as possible often has the opposite effect than what is desired. When I needed steel toed work boots for the farm, I used to spend about $120 for "cheap" boots from the discount or department store. The last pair I bought were Red Wing and cost me well over $300. They outlasted 2-3 "cheap" pair and my feet were far more comfortable during those long 18 hour days at seeding, keeping me less fatigued. Was there greater value in the more expensive boots? You bet there was!
If cost is your #1 concern when considering options for managing your data and business information, then please consider why you buy the name brand hand tools, cars, trucks, and farm equipment that you do? If cost was the only concern, wouldn't we all be driving cheap $10,000 cars, using WalMart wrenches made in China, and farming with Belarus tractors?
Find what works for you and just use it. If you don't know what works for you, then ask for help. I am meeting with an office organization expert this week to get the help I need in creating a work-space that is better organized and more suited to my work flow.
Last week we discussed "Using Your Financial Information," but if you aren't managing your information adequately, it will be difficult to use, and leave you to make decisions with information that is not accurate. We expect our financial institution to provide us with accurate statements, and we'd be pretty upset if the information they provided us wasn't spot on. We need to have the same expectation of ourselves.
If doing your own income and expense entries, set aside 1 hour twice a week to input accounting data. I used to leave mine until it was time to file GST every quarter. I have found that there is value to letting my accountant's office handle this task so I can focus on my business. In 2016, I'll be leaving the data entry to my accountant.
The first piece of information I prefer to offer to new clients is a Unit Cost of Production calculation. This requires current and accurate figures for crop inputs, yield and price, operating costs, and overhead costs. To know what it costs to produce one bushel of canola or one tonne of barley on your farm requires accurate info, otherwise it's still a guess! Using this accurate information is very empowering!
Here is a list of Best Practices to consider implementing for managing your farm's financial and business data:
Research and fully utilize an agronomic data platform; ideally it would require minimal manual entry on your part by gleaning info from your tractor/sprayer/combine consoles, and also easily convert to your accounting software.
Manage income and expenses regularly: don't simply fill the shoe-box! Designate 1 hour twice per week to data entry.
Evaluate the worth of your time relative to tasks you do, and delegate accordingly.
(IE. if you're the CEO helping the hired men sweep out bins, you're not allocating your time very well!)
Consider using outside help, or a designated employee, to manage date entry if you deduce that your time is better spent elsewhere.
Keep income & expenses, assets & liabilities, and cash flow records current each month.
Direct Questions
How are you best utilizing the resources you have available to compile your data? Are you using the right people, or slugging through on your own?
What data and information management tools are you using? Do they satisfy your needs? How are you using the reports they create?
Does managing financial information take a back seat to other tasks? What do you need to make it more of a priority?
From the Home Quarter
Choosing an information management platform is a daunting task. But it is less daunting than trying to make informed decisions with little or no usable information. The learning curve is steep at the beginning, yet once you've done all your set-up, keeping it updated is relatively easy. Making information management a priority can be less easy, depending on mindset. The benefits you'll enjoy from being equipped to make informed decisions immediately as required are similar to the benefits you enjoy from getting your entire crop seeded early into warm moist soil. Even emergence on an early seeded crop is as satisfying as highly informed strategic management decisions…and just as important!