"We rob ourselves when we make decisions in the moment with no thought of how those decisions will
impact our futures." – Andy Stanley
It's easy to look back at decisions we have made and say we could have done better. Are you ready to
head down "Metaphor Avenue"? Hind-sight is 20/20, so don't beat yourself up; next time you'll knock it
out of the park!
Why can you say that you could have done better in making past decisions? It is likely because you were
working with incomplete information. However, considering the vast availability of information today
let's also suggest that too much information contributes greatly to incomplete information. There is a lot
of noise out there, and sorting through it all can be overwhelming.
So how does one make better decisions when working with incomplete information? It's difficult, and
risky, especially considering the financial repercussions each decision can hold. Yet these decisions get
made regularly often based on emotion, a hunch, or some gossip.
Stick with your Strategic Plan
The strategy you have established for your business should rule when attempting to make decisions
with incomplete information. Any option that leads you to deviate from your strategy should be quickly
discarded. If a decision takes you away from your original strategy then either there are extenuating
circumstances or business has changed and your strategy wasn't changed with it. Either way, you've got
some more work to do.
Follow your Tactical Plan
Strategy is what you want to accomplish and why. Tactics are how you will get it done. These 2 plans
should be closely aligned. Don't get caught using justification that is "tactical" in nature to permit a
decision that goes against your strategic plan. To paraphrase the quote above, how will this decision
affect your future?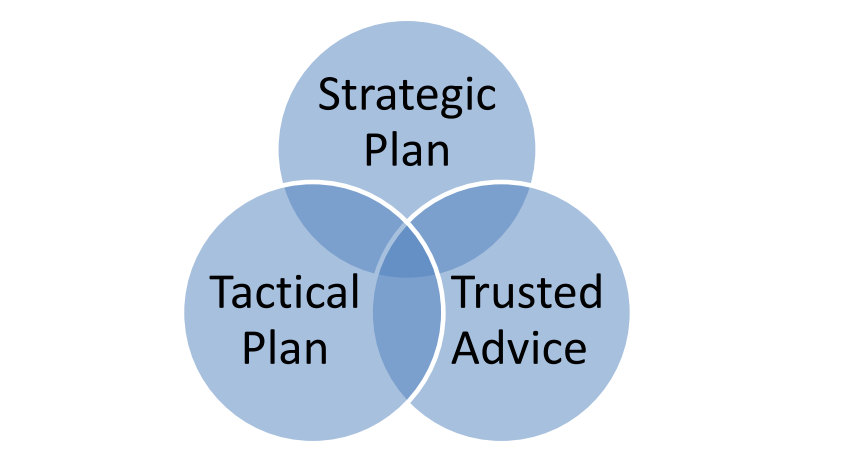 Get Advice from Trusted Sources
Ideally, a trusted source has no vested interest in one decisive outcome over another. Although, a
trusted source can be someone who may have a vested interest, but whose integrity is above any
question you may have about his/her judgement. When information is incomplete or confusing, seek
out someone who has expertise and knowledge to help you sort through the noise and clear your focus.
A naturopath will always have a miracle product that can cure anything that ails you; a surgeon's advice
will always insist that surgery is the best option. Vested interests….get a second (or third) opinion.
Direct Questions
Do you make business decisions without adequate information, basing your choice on emotion, a hunch,
or gossip?
Do your major decisions reflect your strategic plan? (Do you have a strategic plan?)
Do you have trusted advisors who you can call on for help?
Are you contributing to incomplete information from your own habits of improper data management?
From the Home Quarter
If we waited for perfect information before making every decision, we'd never make any decision. We
have always had to proceed with the best information we had at the time. And the fact is information is
never perfect. But don't let that fact be an excuse to allow yourself to not manage your own business
information adequately. You have a responsibility to ensure that you provide yourself with information
that is as complete as you can make it. Business moves at the speed of the internet, so we must be in a
constant state of information management. Advisors can bring immeasurable benefit to your decision
making by either removing emotion or by providing insight from a position of unique expertise. And at
the end of the day, your best allies in decision making are planning and discipline.
If you'd like help planning your farm for business and personal success, then call me or send an email.