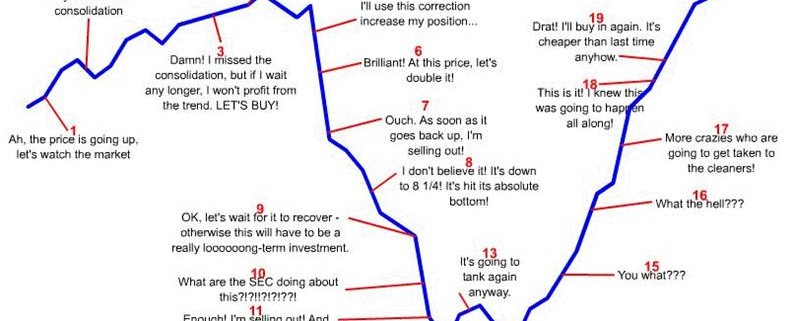 The weekly op-ed by Kevin Hursh in the Western Producer is a regular read for me. His recent column, Taking Risks OK, but prepare for the next downturn is another resounding piece clamoring for farmers to sit up and take note.
Bullet proof your balance sheet during the good times, so you can catapult ahead of your competitors during the bad times.
If you get greedy during the good times, you'll likely be on your knees in the bad times.

-Moe Russell, Russell Consulting Group, Iowa USA
We've all seen enough charts and graphs over the years to be able to acknowledge and recognize the cycles of the past. Has anyone ever been able to consistently predict a cycle's beginning, end, or severity? Certainly few, if any, in the energy sector could have predicted what they are going through right now…
Your business produces commodity, and in the commodity business you have no control over the cycles that affect it. Recognizing that cycles will always be present and will always affect your business is the first step. The next step is to prepare.
The future will always belong to those who see the possibilities before they become obvious.

-Danny Klinefelter, Honors Professor & Founder of TEPAP, Texas A&M University
Hursh writes, "While no one can predict the future, it's probably naive to think that grain prices will always be this strong relative to production costs…it would seem equally naive to think that a world grain glut couldn't cut grain prices by a third or even by half for a prolonged time period.
" If you follow ag-economic news from the US midwest, you'll know that farmers there have been under significant pressure, land values are dropping, and lenders are reducing credit limits and tightening lending terms. I've asked on a number of occasions, "Who thinks this can't happen here (in western Canada)?" (ref. Twitter)
Market cycles will hurt some, but offer opportunity to others.
The difference between who suffers and who prospers is…Who's Ready.

– Kim Gerencser
To Plan for Prosperity
If adhering to the advice in any of the three quotes above, to "bullet proof your balance sheet" & "see the possibilities" in order to "be ready" for the next round of business cycles…well, you better get lean!
While LEAN is possibly best known as a system of techniques and activities for running a manufacturing or service operation, in the context here LEAN means "sans fat." Trimming the fat from your operation is a primary step to solving cash flow challenges, increasing profitability, and reducing risk. Driving down your operating costs is key to consistent profitability in a time when yields, production quality, and markets are anything but consistent.
Next, reduce the impact of emotion on your business decisions. Two basic human emotions, fear and greed, often have the biggest impact on "why" and "when" bad decisions get made.
In closing, your pragmatic 3-step plan to prosperity during cycles in the commodity business are:
Get lean;
Eliminate "fear and greed" from impacting business decisions;
"Do what you do best, and get help for the rest™"