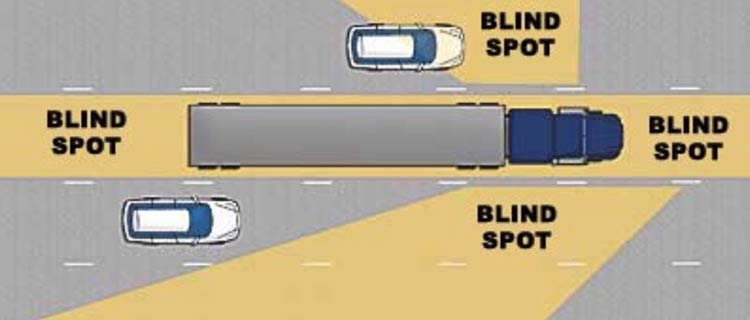 The bigger the rig, the bigger the blind spot.
For those of us who drive or have driven semi (a.k.a. highway tractor) the blind spot is a reality we must be vigilant of every time we roll. Most "4 wheelers" have never experienced the challenge of maneuvering a vehicle of that size.
Small cars have blind spots too. They are, however, much smaller and therefore easier to manage. It does not matter how big your vehicle is, your blind spot is dangerous if you don't turn your head to have a look.
With multiple mirrors, and now even with on-board cameras, managing the blind spot has come a long way. Tools and technology have made blind-spot management far more effective.
But the blind spot is still dangerous if you don't use the tools.
What blind spots do you need to manage in your business? Some blind spots that I've seen cause problems for business owners include making decisions with short term emotion versus long term vision, complacency, and entitlement, just to name a few.
All the tools and tech in the world won't eliminate the risks coming out of your blind spot, especially if you don't turn your head and have a look…
Short Term Emotional Decisions vs Long Term Vision
Everywhere I look, I see growing examples of business owners making short term decisions based on emotion that ignore any long term vision. In agriculture, it's applying last year's factors, such as drought, hail, or disease to this year's plan. To paraphrase an astute and highly intelligent young farmer I spoke with in the last wee, "many farmers will put big hail insurance coverage on land that saw hail last year for the first time in over 10 years, or they'll build a 2018 crop plan that is suited to a lack of moisture because of the drought in 2017…"
I see examples in cash flow management where business owners will spend frivolously after one or two good years in a row instead of building a war chest of working capital from recalling the tough times of recent memory ("recent" being a relative term that would extend to as few as 10 years ago.)
Complacency
We've heard all the anecdotal evidence of how we must be adaptable to change, change is the only constant, innovate or die, etc. etc.  Or the cringe-worthy, six deadliest words in business: "We've always done it this way." Complacency in business is a killer. Just ask Kodak, Nokia, and Blockbuster Video.
We are in the digital age where automation, the Internet of Things, and machine to machine communication will continue to rapidly move from concepts we read about in industry publications to standard fare. Indoor plumbing and color TVs were once outlier ideas too…
Entitlement
At TEPAP, I listened in on a discussion contrasting nepotism, which usually carries with it a negative connotation, and entitlement. "Entitlement" ranks way up there on the list of my most despised words. Admittedly, I'm not a fan of "nepotism" either, but it is not inherently bad. It is when entitlement infiltrates the nepotism that things can go bad.
Plan for Prosperity
These are but three blind spots that can cause you problems in business. There are more, but each business and family are different, so none can apply to everyone every time. Ignoring your blind spot will allow a risk to sneak up on you. Yes, even if you're in your semi-truck and a motorcycle is in your blind spot, you won't likely be fatally injured if you collide, but your rig will be damaged and your trip disrupted. In this metaphor, the truck is your business, the motorcycle is the unforeseen risk you didn't notice because you failed to check your blind spot. The damage to your rig may be financially insignificant, but still requires attention that is taken away from your business. The trip that was disrupted is your cash-flow, potentially your profit, and maybe, ultimately, your success.
What if you were the motorcycle and it was a semi-truck in your blind spot?
Drive safe…