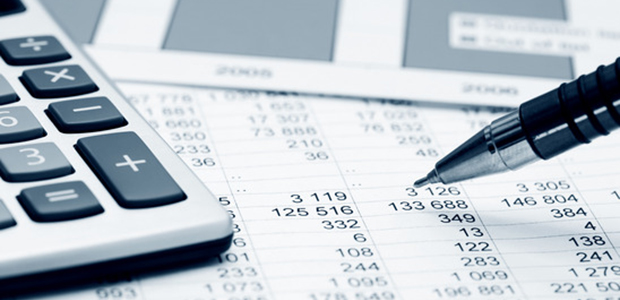 It's nearing that time of year when you'll be paying a visit to your accountant. Whether you are delivering a comprehensive report for final vetting and tax preparation, or a shoe box for "the works," there are a number of questions and specific reporting attributes for which you should be asking your accountant. Of course, there are important actions you are responsible for as well. Here are three of the most important aspects to make a priority this year on your path to prosperity:
Inventory
Record your annual inventory accurately. This is important when reconciling your production and your sales to calculate your operating income. One of my more recent clients hadn't implemented clear tactics for recording year-end inventory at the end of their 2015 crop year. Now, as we review past years, we are challenged to understand why they show an operating loss that year. There are anomalies in many income and expense categories when trended year over year. I challenged the accountant to explain, but since the accountant does not perform any type of "checks and balances," only a compilation of client provided information, my clients are now facing the obtrusive task of reconciling each and every invoice & slip to see if there was a recording error. While you may be wondering, "What's the big deal" the fact of the matter is that this "not a big deal" contributes to a reported $300,000 loss which is putting the banker at some discomfort. Would it still be "not a big deal" if the operating credit limit gets slashed because the financial reporting doesn't support the existing borrowing limit? Is this as simple as an incorrect inventory figure provided by the farmer to the accountant because of slack or sloppy "estimates" of what's in the bin?
Reporting
Readers of this weekly commentary have heard enough of my ranting about accrual adjustments and their importance to evaluating your business year over year. So let's bypass the stated obvious and look down another path: what are you not seeing in your financial statement that would be beneficial for management purposes? I am a proponent of "more is better" when it comes to information (we can always discard what is not necessary much easier than trying to make decisions with vague information by yearning for what is not there.) As an example of a basic start, I support breaking the single line item of "Repairs & Maintenance" into two separate lines: one for equipment, the other for buildings. If you, as management, are trying to discern the subtleties of your various costs, would it be helpful to have this separation made?
There are many other suggestions that could be offered, but in the end, it's your report so ask for what you want.
Depreciation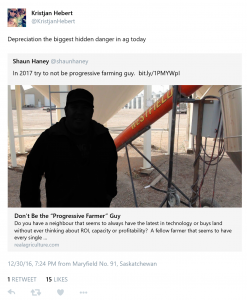 It continues to be the scourge of farmers to this day: income tax. It then is no wonder that farmers love depreciation. It's a non-cash expense that reduces taxable income! But Kristjan Hebert tweeted a very valid concern that all farmers should think about. Depreciation is hidden…from sight. It is not hidden from the government, and the government has ways of collecting if you don't manage your accumulated depreciation.
Accountants inherently assume that all farmers want to maximize depreciation expense to reduce taxable income, so rarely will your accountant initiate a depreciation conversation with you. This does not mean that if your accountant does not initiate the conversation that there is nothing to discuss! Talk to your accountant about your capital asset "depreciation pools." Share your capital expenditure (CapEx) plan. Set the appropriate rate of depreciation that is in your best tax planning interests (HINT: you don't have to take the maximum just because you can.)
To Plan for Prosperity
The financial statements created by your accountant is a package of some of the most critical management tools you need to make informed decisions. You not only have the right, but the obligation to create a report that is useful and meaningful to your management needs (and your accountant, as a strategic business partner, is more than willing to work with you…if you ask.)
1. You bear the responsibility for recording and reporting your inventory accurately.
2. Ask your accountant to create reports that are useful to you based on how you want to evaluate your business (within acceptable accounting practices, or course.)
3. Have a strategic discussion with your accountant about depreciation (HINT: it helps to have a strategy to discuss.)
It's your business. Be accountable for it.