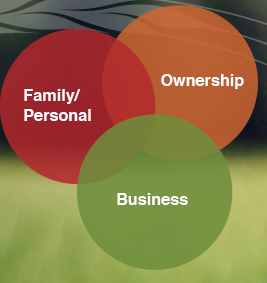 Twice in the course of a week, I was able to partake in a Canadian Association of Farm Advisors (CAFA) Succession Update following the 3 Circle Model http://johndavis.com/three-circle-model-of-the-family-business-system/
The three circles represent each of Ownership, Business, and Family: the critical components that hinder any business transition process. I was speaking in the business circle.
Working with family can be as incredibly rewarding as it can be incredibly challenging. The nature of living with those you work with, grew up with, and hang out with, leads itself to challenges just from being in such close continual contact. Throw in the communication challenges that every family must deal with, and it is truly amazing more family businesses don't fail.
The illustration of the 3 Circle Model is a simple yet accurate depiction of why there can be challenges in family businesses. The root of the challenge, when tapping into the experience of experts who consult family businesses, is the relative inability of family members to separate the three circles. Issues that belong in the "business" circle often end up in the "family" circle; issues in the "ownership" circle often have heavy effects on the "business" circle; issues in the "family" circle usually ripple outward to affect both the "ownership" and "business" circles.
Success in separating the circles can only be had if all family members are conscious and intentional in their effort to recognize the tendency to let issues bleed from one circle to another and proactively manage their behavior to not let it happen. This is easier said than done.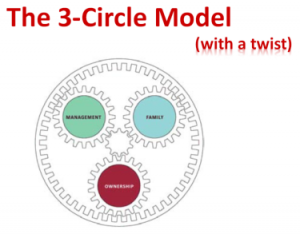 I especially like this graphic that Jim Snyder, National Director, Agricultural Practice Development with BDO, used in his opening presentation to describe the 3 Circle Model. When you think about torque, a planetary is a tremendous bit of engineering (a nice plug for all you gearheads.) Separating the three circles in the model creates a strong business and stronger family. A family affected by the crossover of issues between the circles will be in a constant state of damage control.
Direct Questions
How do you separate the issues you deal with in your family business between three distinct circles: family, business, and ownership?
When you become aware of family issues affecting business, or ownership issues affecting family, etc, how do you stop, reset, and refocus to deal with the issue and not let it "creep?"
Family business is the backbone of our nation's economy. Are you a "family business" or a "business family?"
From the Home Quarter
There is a distinction between a family business and a business family (please contact me to discuss further.) Neither is bad, but there is a difference in mindset and approach to family, business, and ownership. Knowing which type you fall into will help you understand the challenges to be managed as you eventually navigate through the 3 Circle Model of your future business transition. Because, whether you acknowledge it or not, one day your business will need to transition. You might as well be ready for it…